It's launch week! Phil and I are so excited to have completed the first book in The Growly Books series! Begin is truly just the beginning of a great adventure for the young bear, Growly.
The early reviews share a common thread. Parents and children both love the book. Children are reading it on their own, and families are reading it together.
"It's fantastic to find a tale so rich with description, enchanting characters, and exciting adventures. Delightful in every way, Growly is already carving his place into history alongside other classic children's tales." – Logan Wolfram
"This book moves along at just the right pace, and the descriptive details are perfectly seasoned, making the reading rich, but at an age appropriate level." – Kris Camealy
". . .reading about this little bear and his vividly beautiful adventures has sparked something in this weary momma's heart! Watch out girls … I feel an adventure coming on!!" – Tracie Stier-Johnson
A number of amazing bloggers have taken the time to read an advance copy of The Growly Books: Begin and write a review. Several of them are offering giveaways this week (prints of an illustration from the book). I hope you'll stop by their blogs and see what they have to say:
Jamie Martin (Simple Homeschool)
Courtney DeFeo
Logan Wolfram (Life for Dessert)
Kris Camealy
Sara Figueroa, Youth Services Librarian (Mrs. Sara Making Noise)
Rebecca Brandt (Mom's Mustard Seeds)
Christin Slade, a review by her 11-year-old daughter (Joyful Mothering)
Tracie Stier-JohnsonAmanda White (Oh Amanda)
Erin Mohring (Home with the Boys)
Also, here are a few posts by Annie and I:
Annie Barnett (Be Small Studios)
The Better Mom (guest post by Erin)
Erin at ErinUlrich.com
I have to take a minute and thank two incredibly special people who helped us along the journey.
Sandra Peoples (Next Step Editing), thank you for your hard work and help in making our book better. As always, you were professional, quick, and a joy to work with (plus we appreciate your friendship)!
Annie Barnett (Be Small Studios), you are amazing. One of our biggest concerns was that if we decided to add illustrations to the book they wouldn't properly depict the characters. But you took our words and drew them. Growly, Chippy, Tully, and the others . . . I can't tell you the joy we feel seeing them illustrated on the page. We are so thankful for you! (Everyone, don't forget to stop by Annie's Etsy shop to see the incredible Growly prints she has available there!)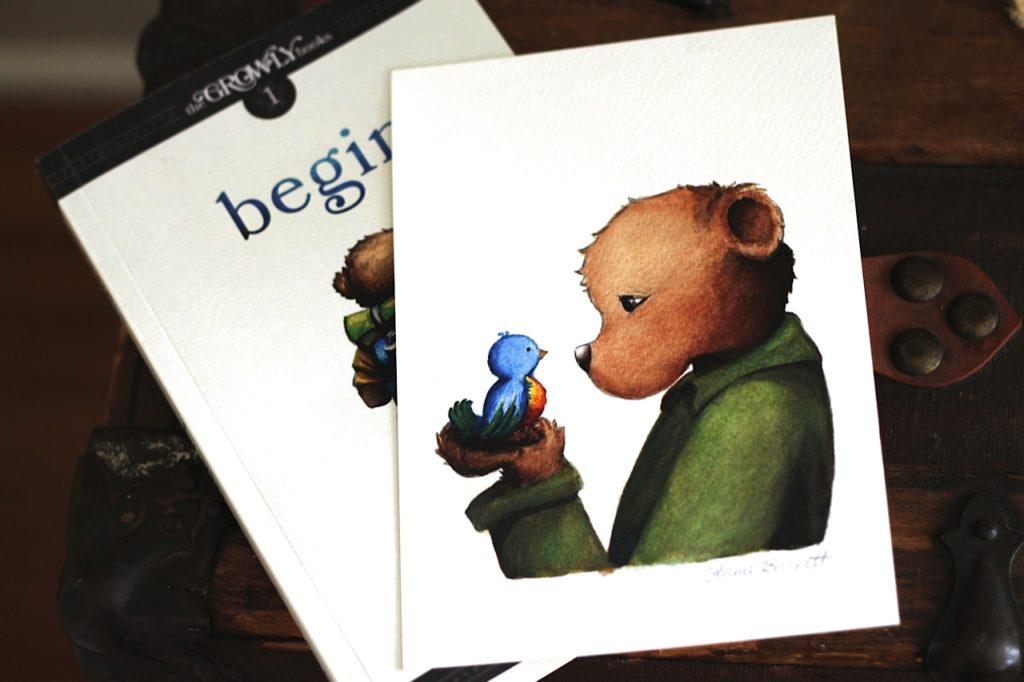 The Growly Books: Begin is available in both paperback and Kindle formats. Visit our store to get the paperback for the introductory price of just $7.99. Also, don't miss the special bundle that includes a paperback book and a gorgeous 5″ x 7″ print of a watercolor version of one of Annie's illustrations, also available in our store! You can purchase the Kindle at Amazon for $4.99 (the paperback is also available at Amazon if you prefer).y
The journey is just beginning! We hope you enjoy reading book one.
In the meantime, we're working on book two!