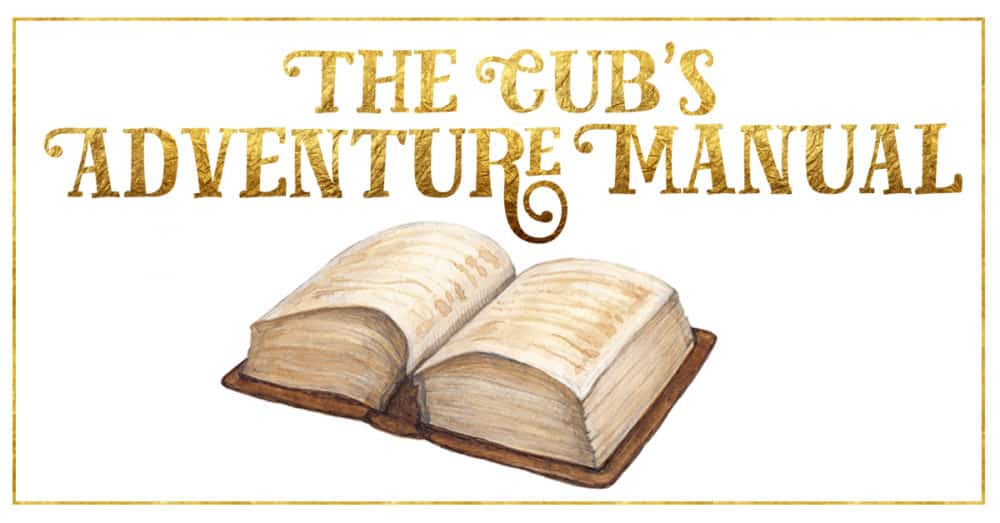 In our fourth book, Haven, there's a whole chapter about The Cub's Adventure Manual. It is probably the most loved book in all the history of Haven. No one is quite sure who wrote the first edition, or what that first edition even looked like. One story goes that the chapter on "Rules for Singing While Digging a Hole" was taken directly from Hegel's Lost Diaries, but it has never been proven because … well … the diaries really are lost.
One thing is certain, The Cub's Adventure Manual has continued to grow over the centuries into a very informative, very detailed, and often funny instruction book for Cubs going out on their Adventures.
Here's a short excerpt from The Cub's Adventure Manual, talking about The Great Night Hike:
The Great Night Hike must continue under all conditions … except of course bad storms, lightning, or heavy hail.

Girl Cubs must hike from dark until dawn, stopping only for ten minute breaks every two hours. A girl Cub may pause for a sip of water at any time, but she may not stop for a sandwich until the midnight hour, at which time she may eat said sandwich as well as a paw-full of nuts and one apple.

One piece of chocolate is allowed each night … but only one. And it must be eaten while lying down and tapping your boots together.

A girl Cub may hum while she is hiking, but only an Adventure song. She may also whistle, but not while eating her sandwich or lying down for chocolate.
The Cub's Adventure Manual is full of funny rules and customs, mixed in amongst the helpful sections like "Safe Places to Sleep in a Storm" and "What to Eat When You Don't Know What to Eat."
"They're a part of what makes your Adventure special," Merridy the Librarian often says. "Once you've been on your Adventure, you'll always eat chocolate with a grin."
If you could add something to The Cub's Adventure Manual, what would it be? Let us know in the comments below.