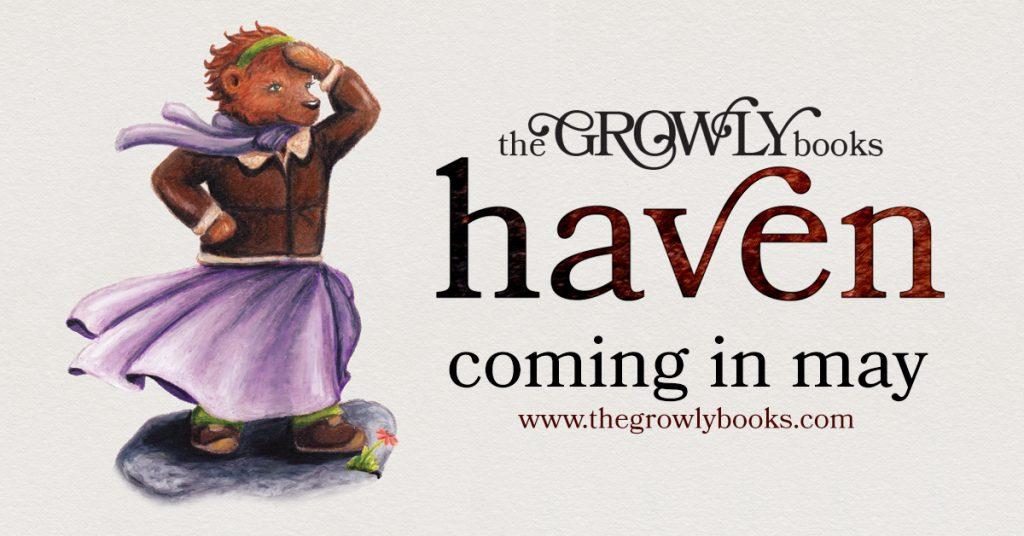 If you're a member of The Growly Club, you've probably already heard, but if not, we have some big news! It's been rather quiet in the Growly world for the past few months, and there's good reason for that …
Our next book, Haven, releases on May 24, 2016!
We created a special trailer video just for Haven, and we're excited to share it with you.
---
---
Here's a sneak peek at the story …

Nestled high on the cliffs of Mount Hegel, the village of Haven has remained quiet and unchanged for hundreds of years. But with strange sightings across the Great River, a wild summer storm, and Growly gone missing, the bears of Haven are now faced with challenges they have never known before. For Ember, an orphaned cub raised by the librarian Merridy, it will be a time of finding out what it means to be brave and of discovering what it is that makes Haven a home.
Haven is a stand-alone book that tells what happened while Growly was away and sets the stage for the next part of the story.
In addition to the book, we will be releasing The Haven Companion, a 100+ page activity and study guide to help you dig deeper into the story. (Companion guides for the first three books are coming very soon as well, with the long-awaited Begin Companion releasing in April!)
You can pre-order now and receive the book early!
Members of the Growly Club (our free membership site) have a special opportunity to receive the book EARLY! Pre-orders are happening NOW exclusively at the Growly Club website, and pre-order packages are expected to ship in early May. We will ship packages in the order that they were ordered!
When you pre-order you'll receive these special extras:
autographed book personalized to the name(s) of your choice — please indicate name(s) in the comments of your order
receive the book before the official release date of May 24, 2016
special 5″ x 7″ frameable postcard of the Ember illustration used on the book cover
two limited edition Growly collector cards
This book is so special to us, and we can't wait to share it with you.
pre-order now
Not a member of the FREE Growly Club yet? It's easy to join!
Just click here to get started and receive instant access to BEHIND THE STORY VIDEOS, downloads, printables, and more Growly fun!